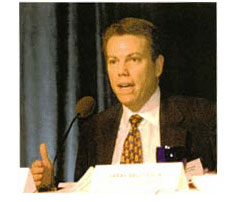 Lance Jon Kimmel is one of America's most frequently quoted business attorneys in the media. He has been interviewed extensively by the international and U.S. press, as well as print and broadcast news media.
Mr. Kimmel has written and spoken extensively on a wide range of issues in corporate and securities law, reflecting his broad and deep background, experience and understanding of the issues confronting business today.
In the News:
SEC Law Firm appointed Designated Advisor on Disclosure (DAD) by OTCQX.  March 2015.
Recent Transactions:
Taking a Chinese healthy lifestyle company public in the U.S.
Advising on a Central American Food company's overseas financing strategy
Handling the reverse merger of a Caribbean-based social media company into a U.S. public company
Representing the U.K. lead investor of a U.S. public company going public
Establishing onshore and offshore venture funds
Amending a bank credit facility for a New York Stock Exchange-listed company